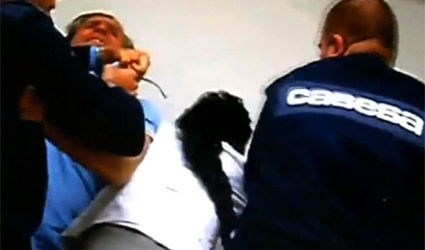 A FRENCH couple was assaulted by two security guards in a supermarket while spending their Christmas holidays in Torrevieja.
One of their sons, aged 13, was able to record the incident. Both he and his younger brother, aged seven, witnessed the assault.
The couple said everything started when the alarm went off at the checkout line.
The two security guards made them go through the detector several times, and later led them to a security room where they fiercely searched the woman's bag. They did not find anything in the handbag.
The couple was then held and attacked, as depicted by the video recorded by their son.
They even claim they were spat on by the guards.
The victims lodged a complaint days later, as the Guardia Civil station in Torrevieja doesn't have an interpreting service.
The supermarket is currently investigating the incident and has asked the security company where the guards work for more information.
The family was due to return to France today (Thursday).