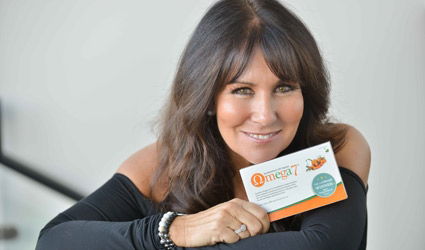 Actress Linda Lusardi reveals all about the tiny berry that soothed her gritty, streaming eyes.
While starring in Emmerdale or captivating audiences in panto, it wasn't always easy for Linda Lusardi to maintain her seductive sparkle. She battled a condition which left her eyelids and sockets inflamed, causing a constant stream of tears and a gritty sensation.
"My eyes would be red and sore most days.  On set, I'd often have to be shot from different angles to disguise my streaming right eye, which was worse than the left," Linda revealed.
As a model and actress, Linda travels a lot for work and to support good causes.  She visited the Costa del Sol in June 2012 with her husband Sam Kane to support the Rhys Daniels Trust alongside Max Clifford and other well known faces. 
"Whenever I made public appearances people often thought I'd been crying.  It was very embarrassing."
Dry eye syndrome occurs when the eye can't lubricate itself effectively, leading to inflammation, soreness, blurred vision, gritty sensation and the feeling of a foreign object in the eye.  Allergies are often blamed for itching eyes, but it is often dryness, especially at the corners.
Hot, windy environments, hormonal changes and age can cause the condition, with up to one in three over 65's suffering.   Linda also found the problem got worse after having had her children Jack, 13, and Lucy, 16. 
"It definitely got worse as I got older.  I would wear sunglasses and use eye drops, but this was messy and inconvenient.  Discovering Omega 7 was like a miracle."
A friend introduced Linda to Omega 7 Sea Buckthorn Oil, a natural berry extract, which has been shown to support the mucous membranes that protect the eyes and other parts of the body. 
Within a few weeks of taking two capsules three times a day, Linda was impressed with the improvement.
"I didn't think it would work so well.  I forgot my eye drops one day and noticed that the discomfort never came.  My eyes weren't watering."
Originally part of traditional Asian medicine, sea buckthorn oil has been used by many as a source of essential fatty acids, such as the rare omega-7, which has become popular with women going through the menopause, as well as with sufferers of dry eyes, dry mouth and Sjogren's disease.
"When I'm in panto as the wicked queen, I no longer worry about my makeup running down my face. Not a good look for a villain! Omega 7 has been life changing."
Visit www.omega7.co.uk for more information or visit one of Anni's Vital Shops across the Costa del Sol area.