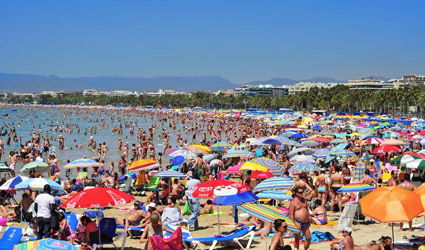 MORE foreign tourists than ever holidayed in Spain last year.
Their numbers increased by 5 per cent to 57.6 million between January and November 2013, the Ministry of Industry, Energy and Tourism announced.
This already overtook 2012's total without including last December's figures.
Continuing unrest in the Middle East worked in Spain's favour, with many preferring the safety of the Canary Islands.  This was especially noticeable last November when the Islands received 17.9 per cent more foreign tourists than in November 2012.
All visitors, including the comparatively new Russian market and the traditional northern European markets, were attracted by Spain's sun and sand offer. Reductions in accommodation prices to offset the fall in Spanish visitors were a further draw.
The fastest-growing tourist markets were comparatively new Russia as well as the perennial northern European countries but UK visitors were still the most numerous.
They increased by 4.6 per cent to 13.7 million between January and November, followed by 9.4 million from Germany (5.2 per cent more) and 9 million from France (6.4 per cent more).
Cataluña received most foreign visitors last year, followed by Baleares and the Canaries.