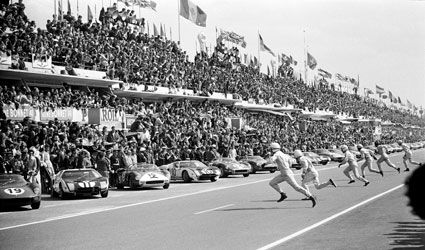 "Freeze The Speed"  at Getty Images Gallery from 6th February – 1st March 2014
LONDON: Power, passion, glamour.  Motor racing has it all.  And for over 50 years, the photographer Rainer Schlegelmilch has captured the drama at race tracks around the world.
Presented with a unique 'Bernie Pass' by F1 supremo, Bernie Ecclestone, Rainer's work takes us into the pits eavesdropping  on owners and drivers, amongst the mechanics in the garages and then trackside for all the action.  
Rainer's incredible photography reflects both the evolution of motor racing and advances in camera technology as he constantly pushes himself to find new and exciting ways of portraying the sport.  This exhibition includes work from his very first race in 1962 to his stunning contemporary abstracts.
Louise Garczewska, Director of Getty Images Gallery, says "In the run up to the 2014 F1 season, we are delighted to represent this iconic collection and bring it to a wider audience through this latest touring exhibition."
The exhibition runs from 6th February to 1st March 2014 and admission is free. Getty Images Gallery is situated in central London, close to Oxford Circus.  Opening hours are from 10.00am to 5.30pm, Monday to Friday and 12.00 to 5.30pm Saturday.