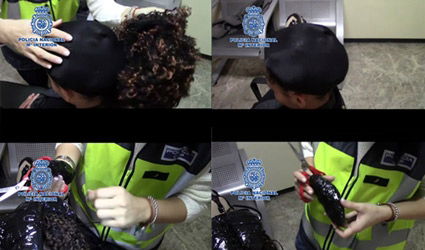 TWO Portuguese women, aged 18 and 28, were arrested at Madrid-Barajas Airport when they were attempting to bring drugs into Spain hidden under wigs.
They arrived at the airport on two different flights from Sao Paulo in Brazil, each of them carrying 1.2 kilos of cocaine in six oval packages which were sown to their real hair, and then hidden under a black stocking. The stocking was then stuck to the wig with adhesive tape. The wigs were very realistic, National Police reported, making the crime hard to detect.
In a joint Guardia Civil and Customs Surveillance operation, 90 kilos of cocaine were seized at Manises Airport in Valencia, hidden in televisions.
The Guardia Civil suspected that a group of two Colombians and three Ecuadorians aged between 22 and 31 were bringing drugs into Spain from South America. They seized a variety of electronic goods, including 17 TVs containing cocaine hidden in aluminium bags. Two vehicles and €4,000 in cash was seized. The members of the organization were arrested when they went to pick up to shipment at the airport.