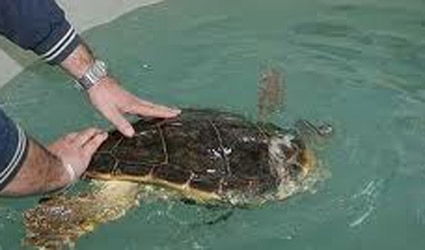 A TURTLE caught by a Denia fishing boat in January 2012 expects a happy event.
Now named Santa Denia, she was taken to the Arca del Mar rescue centre.  Weighing in at 56 kilos, the turtle will not yet be returned to the sea but used for breeding.
Six other rescued turtles from the Arca del Mar centre at Valencia city's Oceanografic were recently released off Denia's Albaranes beach.
Denia's Fishing councillor Sisco Signes, Environment councillor Juan Carlos Signes and Toni Martinez, municipal Maritime and Fishing coordinator, all stressed a vital feature of the rescue programme.
Cooperation from fishermen is essential, as the majority of turtles are trapped in their nets, they explained. Their support is essential but they have only to call the 112 service to activate the rescue protocol.
And in Denia this involves a special tank installed at the port last year where turtles are held until they can be transferred to Arca del Mar.