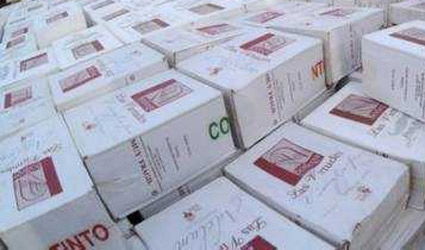 THOUSANDS of bottles of Villena wine were poured away in Zhengzhou (China).
Thirteen thousand bottles of Spanish wine, most of it from Villena's Nuestra Señora de las Virtudes cooperative in Alicante province, allegedly deteriorated on the journey to China.  
The problem did not originate with the wine, acquired last August, the Chinese distributors stressed. The refrigeration system failed on the lorry taking the shipment from the port of Qingdao to Zhengzhou on a day when temperatures rose to more than 40 degrees. 
This impaired its taste, Chinese wine experts pronounced.
The distribution company assumed entire responsibility, it said, and was demonstrating its commitment to quality by disposing of the wine.  The shipment, worth €875,000, was insured for the same sum.
Intrigued passers-by looked on as bottle after bottle of wine was poured into an inflatable pool set up in one of Zhengzhou's central squares.
The wine was not named but the Nuestra Señora de las Virtudes label was visible on bottles shown on Shanghai.com, the Villena cooperative said.
The entire episode was marketing strategy aimed at Chinese consumers, believes the cooperative, which has since sent a further five container-loads of wine to China.