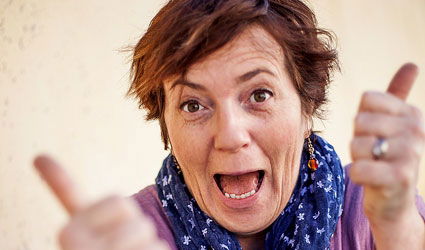 WHEN I was at school I didn't consider myself to be one of the smart kids. Neither did the teachers. I went to two different primary schools and then went to the local grammar school. I didn't get in on the strength of my academic promise, or on any sort of recommendations from my teachers.
No, I got in because my mum wrote an essay in the application form which seemed to sway the admissions secretary. To this day I don't know what it said. 
I didn't like school, and school didn't like me either. I left school with a good enough haul of O levels, but a very poor result in my A levels, so I went into the world and started from the bottom.
I worked my way up through a variety of theatre jobs until I hit the West End and international theatre tours as a Company Manager. Then I did the same with disability and community work. Then I started again and did the same with holistic therapies and health. Then I moved to Mallorca and did it all over again. I like change, and I like challenges. 
My best friend at school, Catherine, was destined to be a writer. She was the clever one of our partnership – things came extraordinarily easily to Catherine, whilst I had to work for it. And in order to work for it I had to be convinced that it was going to be worth the effort. So often enough I didn't bother. Becoming a writer didn't look as if it would ever be within my reach, I decided that only the most intelligent people could possibly do that. 
But as I worked my way through jobs my confidence grew, and with that my voice and my opinions developed. I took a night school course in journalism at the London School of Economics and as I developed so did the opportunities.
Writing is now the thing which I earn the majority of my living from: copywriting for businesses, doing their brochures, emails, websites, and teaching them how to express themselves in the written form in social media. 
When I heard that I had won the Expat Blog Gold Award for my blog www.familymattersmallorca.com and for my article "The Mallorca Expat Commandments" I felt an incredible sense of achievement. It's a wonderful end to a brilliant 2014 for me.
My article, about the Dos and Don'ts for anyone moving to the island, was the most commented on article in the entire competition and beat the other 170 entries from around the world to top spot.
Thanks to everyone who supported me and commented on the article. And thanks to Mrs McClaire, my careers advisor at school in 1987: she told me not to bother trying to work in the theatre as I'd never do it. Well I did it and many more things as well. And that's my New Year's Resolution for 2014: Don't let anyone ever tell me I can't.