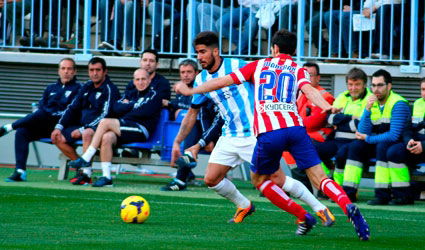 Málaga CF lost to Atlético de Madrid in a hard-fought match this afternoon. Despite a good performance by Bernd Schuster's men, they conceded an unfortunate goal as Atlético's Koke scored the only goal of the game, following initial clearance by Willy Caballero.
There was an amazing atmosphere at La Rosaleda during the first match of 2014, as the Blue and Whites geared up to host Atlético de Madrid, who were hoping to claim the League top spot. Málaga coach, Bernd Schuster, selected a surprising formation, with a five-strong defence and the Samu, Juanmi and Eliseu trio moving upfront. Óliver Torres was in Atlético de Madrid's starting-11.
The 'Malaguistas' had the first goal chance of the game with a shot from Samu that sailed way over the crossbar, following an Eliseu free kick on the right wing. Atlético retaliated with a shy shot from Koke that proved little trouble for Willy.
A pass from Samu in the 12th minute set up a chance for Eliseu, who again sent the ball over the bar.
Following several minutes of possession by the visitors, Atlético had a promising chance to open the scoring in minute 20 with a powerful cross from JuanFran inside the penalty area that was saved by Willy.
Thirty minutes into play and Málaga had another chance to get on the score board, with Eliseu again in the driving seat. Following an excellent individual display by Jesús Gámez on the right wing, the Fuengirola-born player launched a long ball to Eliseu who curled the ball towards the net, only to be stopped by Courtois. Seconds later Samu tried his luck, but the ball hit the post.
The scoreboard remained untouched at half-time, despite Atlético de Madrid dominating possession and Málaga CF creating several chances to score during the 45 minutes.
The second half kicked off in much the same way as the first. Atlético took control of play, but failed to forge any real chances to score, whilst the 'Malaguistas' waited for their turn to try and outwit the rival's Belgian-born goalkeeper. The Blue and Whites began to move closer to the target as time went on, but it was Arda Turán who came close to a goal, before being substituted by 'Cebolla' Rodríguez.
Schuster made a double change, bringing on Roque Santa Cruz and Duda, in place of Eliseu and Juanmi. The worst was yet to come for the local team. In the 70th minute, Koke gained possession following clearance by Willy in the penalty area to put the visitors 0-1 up, after a Diego Costa pass from the left wing which led to a shot for Villa.
Málaga CF tightened up their game play for the remainder of the match in the search for an equaliser, but Schuster's team failed to score before the final whistle.
Match stats
MÁLAGA CF: Willy, Jesús Gámez, Sergio Sánchez, Angeleri (Pedro Morales, min. 75), Weligton, Antunes, Camacho, Sergi Darder, Eliseu (Santa Cruz, min. 64), Samu and Juanmi (Duda, min. 64).
ATLÉTICO DE MADRID: Courtois Juanfran, Miranda, Godín, Filipe, Tiago, Koke, Arda (C. Rodríguez, min. 61), Óliver (Adrián, min. 46), David Villa (Alderweireld, min. 84) and Diego Costa.
GOAL:
0-1: Koke (min. 70).
REFEREE: Teixeira Vitienes, 'Colegio Cántabro'. Yellow cards were awarded to Miranda (min. 9), Sergi Darder (min. 23), Tihago (min. 25), Angeleri (min. 40), Juanfran (min. 52), Diego Costa (min. 75), Courtois (min. 83), C. Rodríguez (min. 85), Samu (min. 86) and Antunes (min. 89).
INFORMATION: 18th BBVA League game of the season held at La Rosaleda Stadium, in front of 26,911 fans.