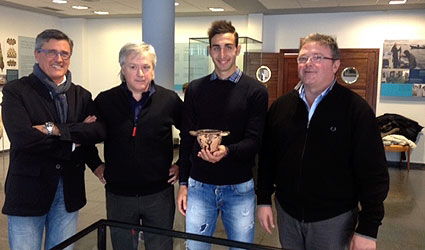 A THIRD Villajoyosa sports figure has given his name to a Vilamuseu exhibit. A two-handled wine cup from the local archaeological museum is now labelled the 'Jose Rodriguez skyphos.' 
Twenty-year-old Vilero Jose Rodriguez made his senior debut with Real Madrid in 2011 and was promoted to the first team this season. 
The Greek-made fourth century vessel was found at the Villajoyosa's Poble Nou burial site and would have been imported by a local resident at considerable expense.
It was specially chosen for Jose Rodriguez because it depicts two athletes and their instructors. Villajoyosa's national cycling champion, Elena Lloret, wears the Vilamuseu logo on her kit and gave her name to a first century AD pottery drinking vessel.  
Another Villajoyosa resident, European Taekwondo champion Nora Llinares, also wears the Vilamuseu logo when competing and has a Roman pottery lamp named after her.
The initiative serves two purposes, the town hall's Heritage department explained. It honours leading local sports figures and also promotes Vilamuseu both nationally and internationally at no extra cost to the town, said councillor Pepe Lloret.