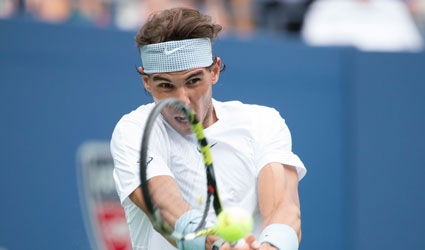 RAFAEL NADAL was voted the greatest Spanish sports person of all-time. The winner of 13 Grand Slam titles and the current number one in the ATP world rankings, he received the award at the Gala for the 75th anniversary of the Spanish sports paper Diario Marca.
Chosen by readers of the aforementioned newspaper, 'Rafa' finished a clear first, ahead of five-time Tour de France winner, Miguel Indurain with Pau Gasol, without doubt, the greatest Spanish basketball player of all time, third. 
This is some achievement for 'Rafa,' considering how many other famous Spaniards have graced the sporting world over the last 60 years, men like fellow tennis Open champions Manuel Orantes and Manuel Santana, top golfers Severiano (Seve) Ballasteros, Miguel Ángel Jiménez, Sergio Garcia and José Maria Olazábal, Formula 1 stars Fernando Alonso and Pedro de la Rosa, rally driver Carlos Sainz, former captain of the Spanish women's national team Amaya Valdemoro, road cyclist Alberto Contador, Spain's national football team coach, Vicente del Bosque, Real Madrid players Iker Casillas, Ricardo Zamora, Antoni Ramallets, Francisco Gento, Alfredo Di Stefano (a naturalised Spaniard), Sergio Ramos, Fernando Hierro and Raul Gonzales, the Barcelona midfield trio of Xabi Alonso, Xavi and Andreas Iniesta, plus Fernando Torres, David Silva, Telmo Zarra and Emilio Butragueño.
'Rafa' enjoyed a fantastic 2013 season, coming back from a career threatening knee injury to win both the French and US Opens as well as claiming his 25th and 26th ATP Masters 1000 titles in Montreal and Cincinnati. And ending the year as the world's number one male tennis player, again!
He had already claimed the French Grand Slam title seven times, in 2005-06-07-08 and 2010-11-12; lifted the US Open prize in 2010, won in Australia in 2009, was twice 'king' at Wimbledon, winning in 2008 (against Roger Federer) and 2010 (beating Tomäs Berdych, and gained a tennis gold medal at the 2008 Olympic Games in Beijing. 
My records show that to date 'Rafa' has played in 658 matches during his professional tennis career. He has won 60 titles overall, and no doubt whatsoever there are still a few more to be collected by the imperious Spaniard.
Born on 3 June 1986 in Mallorca, 'Rafa' is now considered by many as one of the greatest male tennis players of all time, and that is quite an accolade, especially knowing how many super stars have graced the courts all round the world since the 1950s, namely Roger Federer, Björn Borg, Boris Becker, Rod Laver, 'Pistol' Pete Sampras, John McEnroe, Jimmy Connors, André Agassi, Ivan Lendl, Ilie Nastase, Stefan Edberg, Roy Emerson and John Newcombe.
'Rafa's success on clay has earned him the nickname 'King of Clay' and now many sports journalists and commentators all over the globe, as well as several former and current players, regard him as the greatest clay court player in the history of tennis. 
Also a decisive and key member of Spain's winning  Davis Cup teams of 2004, 2008, 2009 and 2011, four years ago 'Rafa' became the seventh player in tennis history and youngest of four in the Open Era, to achieve the Career Grand Slam. And he is only the second male – the other is Agassi – to complete the Career Golden Slam.
Indeed, he and the Swede Mats Wilander, are the only male tennis players to have won at least two Grand Slam titles on three different surfaces – hard court, grass and clay. And by winning last year's French Open at Roland Garros, 'Rafa' became the first and only man to win the same Grand Slam tournament eight times. He also became the first to win at least one Grand Slam title nine years in succession, breaking the record of eight previously shared by Borg, Sampras and Federer. 
The much-liked and appreciated Spaniard also holds the record for most consecutive titles at one particular tournament – eighth in a row in the Monte Carlo Masters. And he's the first player from Spain, male or female, to rank No. 1 in the world for more than 100 weeks. 
Ranked among the world's top five male tennis stars for the last 12 years, 'Rafa' was the first Spaniard to win the Australian Open, the first to claim seven French Open titles (four on the bounce) and the last to win Wimbledon, beating Federer in 2010, the epic final the longest-ever at that venue. 
Rafa told me: "Always I sincerely believe that I can play better every time I go on court. But I am exceptionally happy with what I have achieved so far. I know I have been injured quite a lot, but with the right advice and treatment, I can always overcome such difficulties.
"In 2010, I came back as strong as ever to win at Wimbledon for a second time and I also gained my first victory in America. Great times."
Starting 2011 as the world's number one male tennis player, 'Rafa' eventually lost the top spot, as well as his Wimbledon crown to Serbian Novak Djokovic. But then, over the next two years, he won his sixth and seventh French Open titles, lost in the 2012 Wimbledon semi-finals to Czech star Lukas Rosol before winning his eighth French Open title against fellow countryman David Ferrer. 
Next week join me as I talk to Rafa about his tennis career.