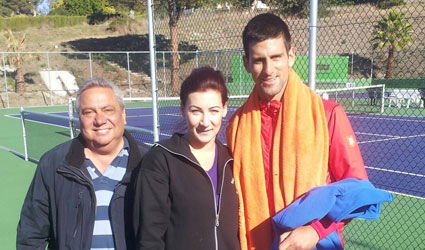 TENNIS superstar and former world number one Novak Djokovic, accompanied by his coach Boris Becker twice visited a new tennis venue next to Marbella Superbowl Bowling Club. 
These practice sessions were part of six teim Grand Slam winner Novak's preparation for the first Grand Slam of the year in Australia.  Jamie Ali and Hollie from Superbowl are pictured with him after one of the training sessions. Since then Novak has travelled to Abu Dhabi where he won his third Mubadala World Tennis Championship title.
The previous Sunday Superbowl hosted a 'Fun Christmas Tournament' at the club which was enjoyed by more than 30 members. 
On Sunday, January 5 Superbowl is holding a 'Three Kings Tournament'  which is open to all.  This will be followed by lunch at the club.  For more details ring 95281771.