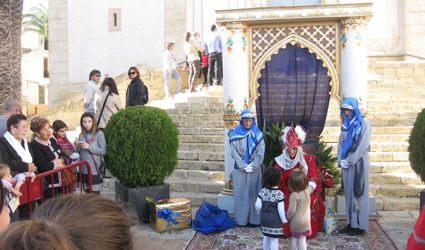 SPAIN's holiday season is less hyper than the UK's but lasts longer.
Christmas is over for another year, the New Year has now been welcomed but there is still the grand finale of the Three Kings to come.
Their feast day is January 6, but Melchior, Gaspar and Balthazar always put in an appearance on the evening of January 5 bringing presents for the children – and adults – who have been good throughout the year.
To make sure that they get it right, it is usual for the Three Wise Men to send a Page to take down children's requests.
One of these messengers recently set up a temporary headquarters in La Nucia where he collected the children's letters for delivery to his royal employers.
Once the paperwork and wrapping operation has been completed, the Kings themselves are scheduled to arrive in La Nucia at 6pm next Sunday (January 5) in a parade organised by the local Scout Group and the Els Nuciers-Granera fiestas association.  The Kings will then formally deliver the children's presents in the Mediterrania Auditorium.