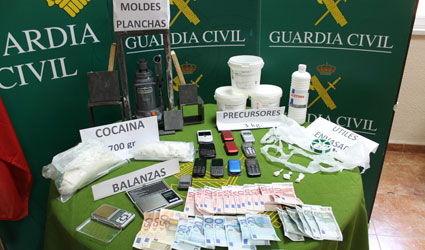 GUARDIA CIVIL uncovered a network sending cocaine to Malaga from Venezuela using international courier services. Five people were arrested and four have been remanded in custody.
The network had contacts in Venezuela who would hide the drugs when sending them to avoid detection. On one occasion they were hidden in a large lamp, another in camping tables and on others, baby clothes were impregnated with the drugs. However, four were intercepted in July, September, November and December, which were destined to people with false identities in Estepona, Marbella and Malaga. 
The leader of the organisation fled Spain when he learned that an investigation was being carried out. Guardia Civil discovered drugs were being cut and prepared for sale in a laboratory created in a house in Estepona. They had presses with their own logo to identify the drugs.