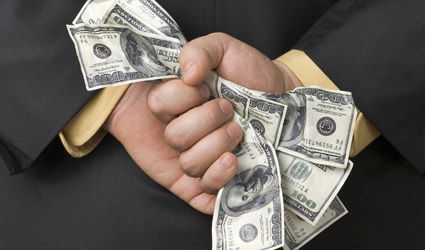 WESTERN economies have been hijacked by fraudulent banking cartels aided by corrupt political accomplices.
The downturn is neither a cyclical blip nor a global downturn. It is a bank raid in reverse.
The wealth of many Western nations has been vacuumed up by harsh interest rates and billions in tax funded government bailouts. Accumulative bank interest adds 40 per cent to the cost of everything we and the government buy.
A rebellious Greek PM decided on a referendum to choose between Icelandic financial independence or Federal Reserve Bank slavery. He was immediately ousted by a Goldman Sachs director who was parachuted in. That bank was largely responsible for the Greek and Italian collapse.
Latvia was near bankrupted when its government plundered tax revenue to bail out a bank. It did so to access IMF, ECB and EBRD loans which robbed taxpayers now pay interest on.
Eager to access Ukraine's mineral wealth the EU invited the government to sign a trade deal. Offering nothing in return the agreement would bring dreadful penury similar to that experienced by Greece.
American threats of sanctions and EU backed demonstrations failed to topple the mutinous President and his Prime Minister. The EU thought it had Ukraine over a barrel when its credit rating was slashed by the banks.
EU Foreign Affairs Minister Baroness Catherine Ashton was grinning from ear to ear.  Without a single concession made she declared the President was to do a u-turn.  Her smirk disappeared when the craftier Russian President Vladimir Putin stepped in and offered Europe's largest country a lifeline.
Similarly intimidated by the IMF and European Central Bank (ECB) the Icelandic government held its ground. In early December four former bosses of Icelandic bank Kaupthing were sentenced to between three and five years in jail. 
These crooks had operated a Ponzi scheme in which Qatar was given credit by the bank to buy shares in the same bank and so artificially bloat share values. 
The Russian Federation, Iran and others operating independent banking services prosecute such frauds. Western governments approve and are complicit in banking swindles.
Today, Icelanders are on their way to becoming among the richest people in the world just five years after experiencing one of the most dramatic financial meltdowns in history. It now enjoys Europe's highest standard of living,
Iceland's President Ólafur Ragnar Grímsson says: "The government bailed out the people and imprisoned the banksters, the opposite of what America and the rest of Europe did."
The Hungarians expelled the IMF and ECB. Costa Rica's four public owned banks resisted IMF threats. The Costa Rican economy is by far the richest in Latin America. Poverty has been abolished, there are no shanty towns.
Rodney Shakespeare, Professor of Binary Economics says: "Global finance capitalism is a fraud and its time is up. And it is also time that we recognise that and start to go for a new system."