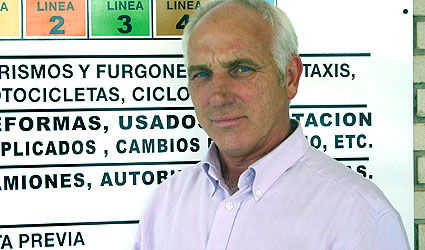 GRAHAM SHELTON is now in his seventh year of vehicle re-registration and over that time has dealt with more than 1,400 vehicles as diverse as 125 cc motorbikes, motor homes, vintage cars as well as the more regular family cars.
His legally registered business is Spanish Number Plates which continues going from strength to strength as the amount of referred customers, those responding to adverts in the Euro Weekly News and its well received website, keeps him more than busy.
To keep up with the workload whilst maintaining a high level of customer service, Graham invited Leigh Blann, a fellow cricketer with Torrevieja CC, to join him a few years ago and the two have become a formidable team with a reputation of doing whatever it takes to complete a job at no extra cost.
Graham said: "Re-registration is not simple and requires a significant understanding of the system. One of the biggest issues faced is countering the misinformation put out by the notorious 'bar-room lawyers' who know everything and nothing. A general guideline is that virtually any vehicle owned by someone before they registered in Spain via the Padron or Residency can be put onto Spanish plates." 
More troublesome situations are where a vehicle was purchased after the owner moved here, so before buying a car outside Spain seek advice. Graham constantly writes in the press about motoring law and has become a 'go to' source of information given freely and free of charge.
Why re-register?  
European law demands that a vehicle is registered in the country in which it is normally kept. A vehicle can only remain in Spain for six months before it is required to leave the country for six months on a rolling basis; hardly practical. Taking a vehicle back to the UK for its annual MOT does not make it legal, nor does the voluntary ITV inspection. 
Re-registration is a team effort. Graham and Leigh both speak Spanish and work in harness with a specialist motoring lawyer. Daily they call upon the help and advice of other specialist professionals to ensure that a seamless service is provided to the customer
So for a legal, honest service that is completely professionally and quick with no hidden charges or surprises, then call Spanish Number Plates on 966 753 375 or 605 319 889. Visit www.spanish-number-plates.com or email info@spanish-number-plates.com