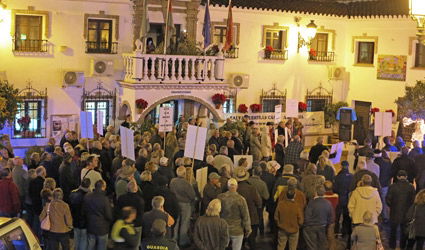 THE residents of an urbanisation in Alcaucin who came to Spain to live a dream are facing a nightmare.
The town council, under instruction from the regional government, revoked the building licenses of the 13 houses comprising Las Huertas urbanisation.
Now the residents, most of them in their 60s and 70s, fear they will have the threat of demolition hanging over their heads during 2014.
"We bought our properties in good faith with full building licenses and planning consent, and now these have been taken away from us for reasons we cannot fully comprehend," said resident Kathryn Ann Williams.
The building license of the urbanisation was granted in 2002, with the houses being built over the following two years.
All the buying contracts were made before the end of May 2003, and yet the Spanish Statute of Limitations, which limits action within six years, does not apply to them.
"We do live here, pay our taxes here, spend our money here, invite our friends and family to holiday here, employ local people, and yet the government is doing nothing to help us," Kathryn added.
As reported in the Euro Weekly News, in December more than 100 residents of Alcaucin demonstrated against the demands of the regional government to revoke these licenses.
They were summoned by Save Our Homes in Axarquia (SOHA), an organisation set up in 2008 to fight for properties in a similar predicament.
"These actions further sully the reputation of Spain and do nothing to alleviate the economic plight of Andalucia," said the Chairman of SOHA Philip Smalley.
"Moreover, these actions are a clear violation of Article 8 of the European Convention on Human Rights.  It may be that our fight will continue outside of Spain," Smalley added.