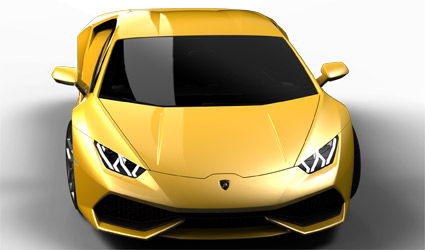 AUTOMOBILI Lamborghini aims at redefining the benchmark for luxury super sports cars with the brand new Huracan Lamborghini.
A successor to the iconic Gallardo, the Huracan combines absolute performance with easy-to-drive road behaviour.
The new Huracan is pure in its lines, featuring sharp edges, monolithic and sculptured panels  and precise surfaces, the Italian manufacturer says.
The silhouette of the vehicle is defined by only one line that merges the front with the cockpit and the rear of the car.
The lateral windows come together to create a hexagonal form inserted in the car's profile.
The headlamps and other light functions are equipped with full LED illumination, setting this technology as a standard feature for the first time in the segment.
The interior of the Huracan, to be launched in spring 2014 at an estimated starting price of €180,000, is dominated by a 12.3-inch, full-colour TFT instrument panel which delivers all car information to the driver.
Nappa leather and Alcantara disginguish the interior, with several colour combinations offered.
The new Huracan's hybrid chassis is made of carbon and aluminium elements.
With a dry weight of 1,422kg, it enables a power-to-weight ratio of 2.33kg per horse power, while guaranteeing race-car precision.
The new 5.2 litre V10 engine delivers a maximum power of 448 kW/610 HP at 8,250 rpm, and a maximum torque of 560 Nm at 6,500 rpm.
In the new 'Iniezione Diretta Stratificata' (IDS), direct and indirect petrol injections are combined, resulting in more power and torque with lower fuel consumption.
The Huracan reaches a top speed of more than 325km/h, with acceleration from 0 to 100km/h in 3.2 seconds.
The different driving modes of the Huracan can be selected via a driving dynamics selector switch in the steering wheel.
The different modes ensure extensive modification in road behaviour of the car.