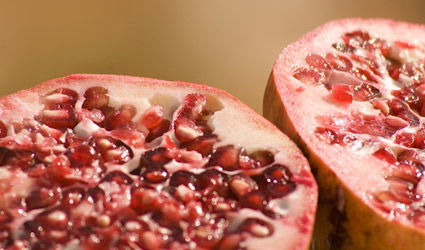 ORIGINALLY from Persia, pomegranates are now grown throughout the Mediterranean and also in California and Arizona (USA) after being introduced to the area by Spanish settlers in the 1760s.
Currently in season, there are plenty of reasons why people should be stocking up on this seasonal fruit for its health benefits.
The fruit is full of vitamin C and potassium and rich in antioxidants which some people say can help to prevent free radicals and bad cholesterol from hardening the arteries in your body.
Research has also shown that eating organic pomegranate seeds and drinking pomegranate juice can increase oxygen levels to the heart.
The small, juicy seeds may not be the easiest fruit to get at or eat, but the effort is worth it. Try sprinkling the seeds over salads for an added health boost, and they can be used in most recipes that call for fruit or seeds.