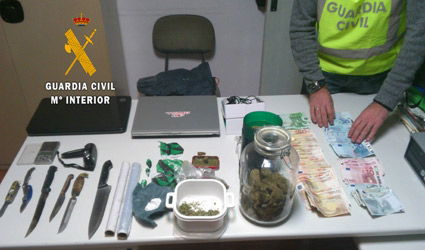 A MAN was arrested on the Calypso Urbanization in Mijas for allegedly selling drugs from his home.
The Guardia Civil investigation began after they noticed a rise in the amount of doses of hashish and cocaine which were found in the town, and they focused on dismantling the sales point.
Surveillance was set up throughout the month of December to obtain sufficient evidence against the middle-aged man who was selling the drugs.
Drugs, almost €2,400 in cash, electronic and computer equipment and items for preparing drugs for sale were seized.