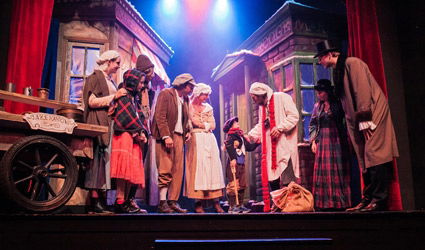 EVEN in the midst of blue skies there is something inside of us that seems to long for the traditions of an English Christmas.
But believe me, you don't want to be where I am at the moment: sitting in a Cafe Nero in Cheltenham. It is piddling down with rain and it's freezing (I've just bought a hat). The people sitting inside in Neros are all gently steaming as the rain evaporates off their coats. I was already on Planet Christmas when I received the phone call that all jobbing writers dread: "Where the beep is your copy? We go to print in an hour." Ack. Get me to free WiFi.
So it is with little fanfare that I tell you about this Christmas's essential event: A Christmas Carol presented by Isla Theatre.  Please support this talented and determined company as they continue to break new ground in Mallorca. We will be going with La Gidg at the beginning of January. I've already bought our tickets anticipating a sold out show. Please, it's down to you to make it so.  
After we wouldn't want you to follow in the footsteps of miserly Ebenezer Scrooge.
As Dickens lovers know he receives an unexpected Christmas visit from the three ghosts.  At thos fantastic show you can go along with him on his enlightening voyage as the Ghosts of Christmas Past, Christmas Present and Christmas Future try to shed light on his past mistakes and show him what is in his power in order to change his future.
For those who don't know the questions are will he resist and stubbornly cling to his cold, humbug heart? Or will he learn from his mistakes and seek the good in mankind and the love and giving that surrounds Christmas? So please do go and share in an enchanting production showcasing Dickens´ classic tale…and enjoy singing traditional Christmas Carols as part of the festivities.
A Christmas Carol is a timeless, treasured tale that will make the whole family smile and will remind your heart of what the important things in life are each and every day of the year!
A Christmas Carol
by Charles Dickens
December 20 to 22, 26 to 29, 2013 plus January 1 to 4, 2014
6:00 pm
Isla Theatre Project
Teatro Sans, Ca´nSanc 5
070012 Palma