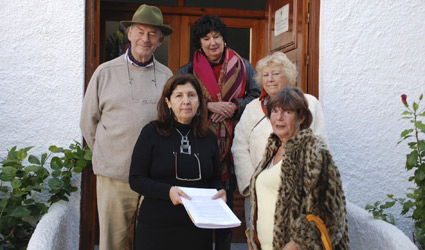 WHILE many children write to the Three Kings at this time of year with their Christmas wishes a group of Mojacar residents have written to the King of Spain with their own special wish.
Some 700 residents have signed a petition to voice their concern over the postal service in the town.
Many residents have seen their mail being returned to sender, without warning, from 'apartados' (postboxes rented inside the Correos post offices). Many people need to use them because street signage and numbering in Mojacar Pueblo and Playa does not make it easy for postmen to find the right address.
Throughout eight long months, since last April, residents have suffered the loss of important documents, pensions and utility services, as well as receiving huge fines for taxes not being paid in time as warnings were not getting through.
Spokesperson for the campaign, Susie Mandrake had a very busy week, first of all, sending a fax to the King asking for his help with their Christmas mail as the King was the one who decreed and signed the postal laws.
The group decided to go straight to the top after getting nowhere with Spanish bureaucracy.
The following day a group went down to the Correos office on Mojacar Playa pleading for a truce and a return to the old way of sorting by apartado number and not by names.
Members of the group wore tinsel and carried candles hoping to engender a bit of Christmas spirit with the staff at the office, who actually showed sympathy to their plight.
Immediately afterwards the  same group went up to the village and presented  Mayoress  Rosa Maria Cano with the petition and a letter asking her to contact Correos and plead a Christmas moratorium.  
The Mayoress pointed out that the council is carrying out work to improve house numbering and signposting as fast as it can reasonably be done. But she said it is proving not to be an easy task.
However, once it is done everyone should be sure of getting their mail delivered to their home address rather than using a PO box, she added.
The petition was sent last week by fax to the governmental sub-secretariat, the first step before going to the European Parliament, and also to the National Ombudsman for restitution if possible and hompefully a slap on the wrist for Correos for causing so much hardship and distress to so many people.