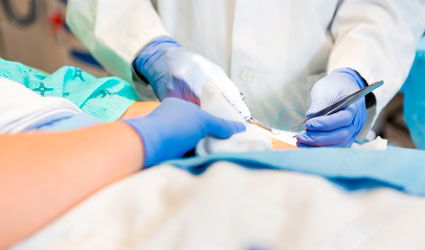 A MAN reportedly waited more than eight hours at Malaga Regional Hospital to receive stitches on a wound to his ear. The wound, which was the result of a domestic accident, required 30 stitches.
The man, 61, has reported the hospital and the Junta de Andalucia. He slipped and hit a door handle as he fell, sustaining a serious injury which practically cut off his ear.
He went to a hospital in Malaga, but after a first check, he was sent to the Regional Hospital because he required plastic surgery. The doctor and nurse called the duty surgeon, who, without coming to see the wound said it was not urgent and that he would return at 10am. 
According to the report presented against the hospital and the Junta de Andalucia, the doctor and nurse insisted that the wound was serious. The surgeon told the nurse she could "see to it" but she refused to do so, saying she was not trained to deal with such wounds, and the man went home.
However, he had to return soon afterwards because it started bleeding, and was given a band around his head which he says gave him a headache. 
He returned again at 10am and was treated by a different plastic surgeon who said that his colleague should have done so the night before, which would have prevented the bleeding and headaches.