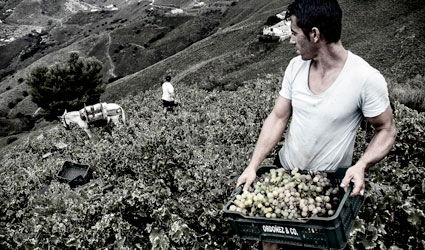 'LA VENDIMIA' by Francisco Orozco Saenz was the winner of the 1st Wine Harvest in the Axarquia Photo Contest. A panel of judges chose the picture because it shows the "extreme difficulty" of the wine harvest in the Axarquia area.
'La llegada del arriero' (The Arrival of the Mule Driver) by Jose Alfonso Torres Garrido, and 'Dulces uvas' (Sweet Grapes) by Juan Quesada Galdon won second and third prize respectively.
A total of 103 pictures were submitted to the contest, which was organised by Jorge Ordoñez Winery, the University of Malaga and the Malaga Provincial Government. 20 of them will be exhibited in Velez-Malaga, Nerja and Almachar in dates yet to be announced.