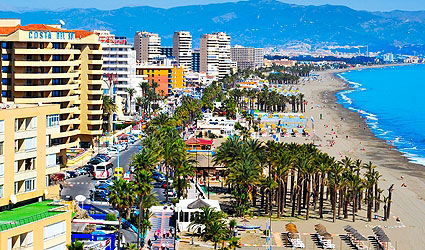 FORTY per cent of tourists who come to Andalucia visit the Costa del Sol. According to the Malaga Costa del Sol Tourism Board, 9.1 million tourists visited the province in 2012, which was 42.33 per cent of all those who visited Andalucia.
Their average daily expenditure is €61.2, slightly above the average for the region, which is €60.40. 
The President of the Malaga-Costa del Sol Tourism Board, Elias Bendodo, explained how important Malaga-Costa del Sol Airport was for these positive figures, as 65.6 per cent of all passengers who come to Andalucia use the airport. He also pointed out that the port and the high speed trains connecting with the Malaga Maria Zambrano station in the city had gained importance within the past year and given the area an advantage over other Andalucian provinces. 
Meanwhile, the Junta de Andalucia Councillor for Tourism and Commerce, Rafael Rodriguez, announced that between January and November this year, there have been 4.3 per cent more overnight stays in hotels in Andalucia than over the same period last year, amounting to 41.3 million. The number of visitors amounted to 14.2 million, 3.1 per cent more than in the first 11 months of 2012.