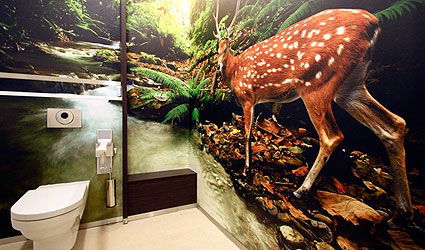 ATOCHA train station in Madrid now has two sets of paid toilets, costing €0.60 per person. The 180m2 toilets at the high-speed train terminal at Adif Madrid-Puerta de Atocha station have been created by Dutch company '2theloo'.
The company, the first 'toilet shop' in the world, will manage the toilets for seven years, paying €280,000 to railway administration Adif for the authorization. 
The company has already installed 120 facilities throughout Europe, including another in Madrid, at the Jardin Tropical, and one at the Maremagnum Shopping Centre in Barcelona. 
Most of them are at shopping centres, train stations, petrol stations, airports and main streets. The sinks are made by Roca and have electric taps as well as walls with "surprising" designs, the company says. They also have background music, drug stores, family rooms and other facilities. They are made with sustainable materials and designed to save water and be cleaned with ecological products.