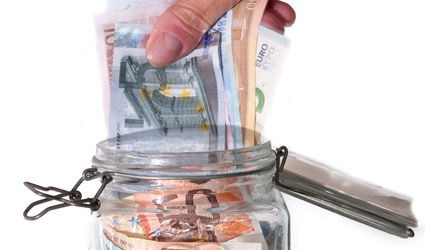 Get out your duster, knock those cobwebs off your piggybank and get in gear to make next year a financial success. The start of a new year is always a great time to forget past mistakes and begin afresh, with a renewed eagerness to sort out any financial mess that may have accumulated in 2013.
The dawn of a new year calls for a fresh approach to saving, paying off debt and getting money matters in order. So, in preparation for the upcoming year of 2014, here are some handy resolutions that will promise to get your financial house in order.
1. Be informed: Track every cent of your spending. Know exactly where money is going and that way changes can be made in February and further into 2014.
2. Lighten the load: Get rid of any holiday debt that may have built up on credit cards and the likes as soon as possible. It's hard to make financial progress if burdened down with interest heavy debt.
3. Be smart: Don't blow a Christmas bonus or a holiday cash windfall on champagne to ring in the new year. Put it securely away, you never know when unexpected costs will arise.
4. Slim down: Go through your monthly bills and figure out what things you can live without – maybe a subscription to a music app that you never use or magazine collection that you never have time to read.
5. In case of emergency – be prepared: Start up an emergency savings fund to take the pressure off sudden expenses.
6. Winter-clean bank accounts: Get rid of any old accounts that are not used and which leave you subject to inactivity fees, potential identity theft, and other dangers.
7. Put 10 per cent of your salary away: While a 10per cent savings target is a good goal, that figure doesn't have to be written in stone. If you're not regularly saving anything at all, it's OK to start with perhaps just 3per cent or 5per cent. Simply getting into the habit of being a consistent saver is what's important.