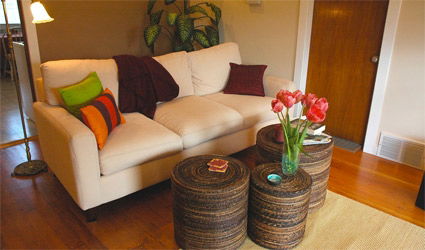 THE decorations will be down soon and after the bright lights and colourful baubles adorning our homes of the last few weeks, any room can be left looking a little sombre in comparison.
So to liven up your home and give it a new look for a new year, try these top five little changes:
Accessory accents: these are quick, easy and work in any home. For example adding a new cushion or two to a sofa or chair will give an instant lift and can add colour and depth.
Adding a matching or complementing throw to your sofa will give it a completely new look and is perfect for chilly January nights.
If you don't have the money, or time to paint a whole room, choose an accent wall to add a splash of colour and to create a feature.
Wallpaper is becoming increasingly available in Spain and opens up a whole new world of options with colours, patterns and textures that just cannot be created with paint. Again, choosing just an accent wall is a cheaper and quicker option than doing a whole room.
Replace your Christmas tree with some more foliage, either of the fresh variety, or silk flower arrangements or plants for a permanent solution.