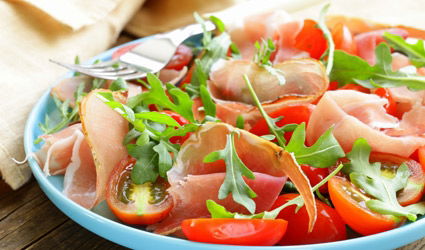 Having have had 25 Christmases in the Spanish house and a good number in Spain before that, year-end celebrations tend to be organised around Spanish versus UK timings for celebrations.
On Christmas Eve, Noche Buena, I enjoyed preparing and eating the main Christmas meal with friends. It was almost entirely produced from self-grown garden produce from the turkey and veg to the dried fruit in the Christmas pudding and cake, and from fruits from a local hedgerow with the after dinner Pacharan.
As we have often said we cannot grow four things. The wine, well that came from our good friends at the almost ecological vineyard of Bodega Sonrisa; the Spanish ham sliced thinly for a starter was from a low fat ham won in a fiesta raffle in August; and the pickled salmon, gravlaks, that was served with the cured ham was flavoured Norwegian style with pine needles and dill dried from the garden during the summer.
Christmas Day was more relaxed with a fresh air mountain walk with a call into a local Spanish hostelry for a light tapas lunch before settling in for a long evening read of a good travel book in front of the homely log fire, just broken by preparing a snack of ham, local artisan goat cheese, some Christmas pudding and some stilton pickled in port.
Thoughtful friends dropped in with both of the latter earlier in the year knowing that it is one of the very few things that I miss in Spain. Today, Boxing Day this article should appear in the shops as the Spanish outlets are likely to be open. For lunch I will prepare a brunch for a few friends with left-overs from Christmas Eve and good healthy salads as the diversity of salad leaves in the garden raised beds and container allotment are growing well.
By the way if you are looking for a light read in the New Year you might enjoy the write up of my walk from the Bay of Biscay to the Med. It was a great walk which took 51.5 days during which we met very few people. The route we describe, for armchair as well as active walkers, is a wonderful alternative to walking from the Pyrennes to Santiago de Compostello. The Title is 'Adventure along the Spanish Pyrenees', author Dick Handscombe and available from Amazon Books.
Then after Boxing Day there are a couple of days to start the Winter Cut-back before more heavy eating over the new year. This year many in our village plan to get well ahead with heavy pruning jobs as after two decades our town hall has withdrawn, from January 1, its service for the collection and processing of garden waste in an effort to save money. It suggests that all garden owners can obtain a licence to have bonfires in their gardens. Most residents consider this to be a retrograde step for health, environmental and cleanliness reasons. However for many who have a good compost heap and who mulch with shredded prunings, the problem will be minimised.
I thought that most of our readers will not yet be ready to think about New Year Resolutions for the garden for 2014, so held them back until next week. So until then enjoy your well earned seasonal rest from gardening.
© Dick Handscombe www.gardeninginspain.com December 2013.