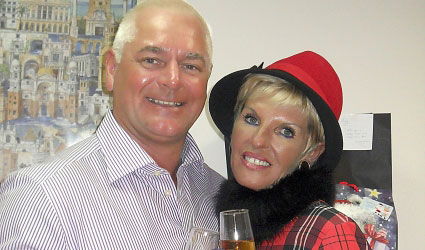 STAYING positive and helping  people out  is one of the biggest strengths of the Euro Weekly News.
Which is why when we heard from people desperately worried about large sums of money  invested with a 'celebrity' broker who has seemingly disappeared from the coast we quietly started investigating.
Nigel Goldman, who styled himself as an investment guru and professional poker player, promised people good returns on their money, and at first he was as good as his word, continuing to meet his financial obligations. But then several weeks ago he seemingly seemed to disappear from the coast.
And that is when people started to get in touch with the Euro Weekly News to discuss their worries about how they could get access to their investments.
As a responsible newspaper  the EWN has since then been investigating the matter, together with lawyer Antonio Flores and Sky TV's Martin Brunt.
Rather  than publish a sensationalist story filled with half-truths, speculation and erroneous numbers, unlike a small inland fortnightly newspaper,  the EWN Managing Director Michel Euesden has been working behind the scenes tirelessly to try and find out what has happened and make sure that investors get at least some of their money back.
Michel said: "The great thing about the Costa community, which we are part of, is that it cares.
"We care deeply about our readers, which is why when they came to the EWN worried about their money I took it upon myself to try and get to the root of the matter."
She added that it would have been "the easy option" to run a story about Goldman disappearing,  but  "that would not have helped anyone get access to their investments."
"The EWN stays positive and wants to ensure it gets its facts right. We always back the Costa community, and because we care we do not publish sensationalist tabloid tittle-tattle.
"Other newspapers may call themselves investigative, but we are the ones who have managed to get behind the scenes and not only talk to Goldman on many occasions, but also to his girlfriend Suzanne Couling and many other key players in this very distressing situation.
"We have made many attempts verbally and in writing to Goldman to help him to return to Spain and resolve the problems.
Because we care about people we have been trying as hard as we can to make sure people's investments are safe before rushing into print. In a text  message to Michel only a matter of days ago, Goldman said: "Things started to go wrong just over a year ago. It seems some of my brokers turned out to be running a Ponzi scheme with everyone's money. Since then I have been playing catch up.
"I did not set out to be a thief." Goldman has admitted in writing to owing as much as €800,000.
Michel said: "We felt it more important after speaking late into the night and over weekends to find solutions rather than tabloid headlines. It wouldd appear
 that others do not have our moral fibre."
"We hope to bring you the full story with a more positive outlook for investors in 2014.
Anyone with any worries should get in touch with Antonio Flores lawyers on 952 861 890 or email [email protected]
EWN the paper that cares.