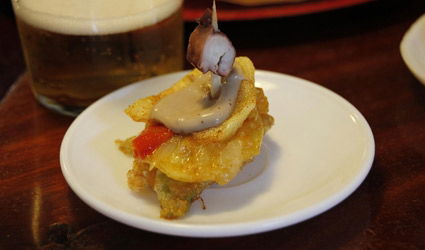 VITORIA has been elected as the 2014 Culinary Capital of Spain.
The Basque city will succeed Burgos as the Spanish city of reference for foodies.
The Spanish Federation of Catering Businesses (FEHR) and the Spanish Federation of Tourism Journalists and Writers (FEPET) have chosen Vitoria for the institutional, social and professional support the candidacy of the city received.
It prevailed over Huesca, Sant Carles de la Rapita (Cataluña) and Valencia in the votation.
The Basque capital has also been supported by award-winning chefs including Pedro Subijana, Karlos and Eva Arguiñano, Martin Berasategui, Elena and Juan Mari Arzak or Diego Guerrero.
It's the third year the title of Culinary Capital of Spain has been awarded.
The winner city will now have to pay a €125,000 fee and organise an events programme throughout 2014 worth at least €200,000 in order to keep the title.