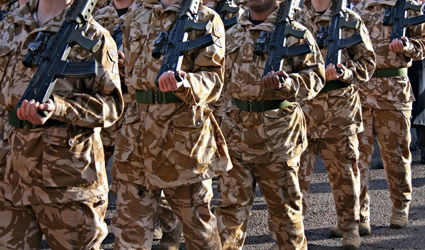 DONE it again haven't we? Poked our arrogant noses in to 'save' a foreign country and achieved precisely nothing.
Nothing except more hatred and the deaths of more of the cream of our precious young men and women.
Right at the outset of this doomed Afghan engagement, I asked why we thought we could be more successful than the might of the Soviet forces, which had to withdraw with tails between their legs.
The answer is of course we haven't been. We left Iraq in chaos and despair and now we've done the same in Afghanistan. When are our 'masters of war' going to realise that the 'glory' days of the Raj, when we steamed into 'ignorant' foreign climes, slaughtered the 'insurgents', installed our own hierarchy, pillaged all we could carry and finally sailed off into the sunset- congratulating ourselves that despite robbing them of their culture, we had left behind a stable and happily enriched democratic population – are over?
Give us a break. Within days of the last British warrior making his/her exit from this latest conflict, all the ground they have fought for and lost at such cost will be taken back by swarthy bearded men in Toyota trucks, waving Kalashnikovs and screaming Allah Akbar.
Within a few months the poppy fields will be blooming and, if the left wing had its way, they would probably be subsidised by British aid; my God. 'Will no one rid us of these dangerous idiots?'
One of the UK's main political parties lives in a world of blissful self-satisfied ignorance and the other in a complete cocoon of jealousy. In the middle there are others who, whatever they think, will never get a majority. Which just about sums up how ignorant and confused the human race actually is.
After all we are the ones who have invented the parties we think can run our existence! It's time to start looking after ourselves. We need to bring all our troops home, put them in charge of our borders and use them to build up our defenses. We need to withdraw all our foreign aid and let these people sort out their own problems.
We simply must clamp severely down on any new immigration and tell Brussels to go take a running jump. Get out of the EU. Reestablish trade ties with our Commonwealth countries (if they'll have us) and start to rebuild the UK back to where it was before the EU disaster and before the Blair brigade decide to use it to further their own ends. Please God, in the New Year at least begin to introduce some common sense at last.
A million thanks for all your mail, interest and good wishes. Fingers crossed for our futures and whatever ya do in it. Always keep the faith. 
Love Leapy.  [email protected]