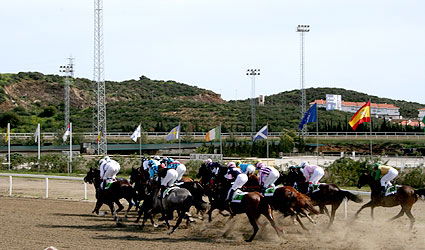 THERE will be no more horse races at the Costa del Sol Racecourse. Mijas council has said that sporting events will continue to be held at the racecourse, but there won't be any more horse races under the current management, Recursos Turisticos de Mijas.
The decision, announced by Mayor Angel Nozal, will force the council to reduce the number of people working at the racecourse. 
It comes after the Zarzuela Racecourse, which manages racing throughout Spain, went back on a proposal to hold races every other Wednesday in July and August.
Although this would have reduced takings for the Costa del Sol racecourse, the costs of running it would remain at around €1 million. However, Mijas had accepted the proposal, but ultimately, the races were assigned to racecourses in Orense and San Sebastian instead. 
The council has approved a loan with Unicaja for €258,000 to pay the staff's wages, electric and water bills, and pay off the debt with the security firm at the facilities. 
Even if there are no races, the football pitch, gym, athletics track, show jumping school, stables and horse therapy facilities which are managed by private companies or by the Municipal Sports Board will remain in place. Two people will continue to provide maintenance at the racecourse.  
Although talks have been held regarding another company managing the racecourse and negotiations are ongoing with two companies, so far, none of them have prospered, which is the only way the facilities could continue to hold races. 
The council has said it can't afford to spend €1 million per year for 15 days of races.
The opposition accuses the mayor and his team of having not known how to manage the racecourse.