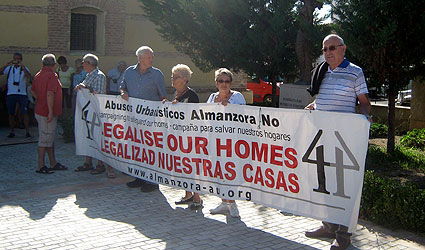 THE recent demolition of two of the four houses in Las Terreras, Cantoria, continues to have repercussions in the world's media.
This week  Spanish magazine Interviu has published an article entitled "El infierno estaba en el paraíso" (Hell was in paradise) and a story has appeared on the BBC news. The weekly magazine Interviu, which could probably be described as a 'Lads Mag', dedicated several pages to relate the defencelessness of the affected families before justice.
Families that purchased their properties in good faith only to have their licences revoked later by the Junta DE Andalucia regional government.
The BBC cameras were also in the area filming and visited the town hall of Cantoria where a reporter managed to catch up with the ex-mayor Pedro Llamas, suspended from office for supplying licences for electricity and water to the four properties in question.
Upon questioning Llamas about the demolished properties the ex-mayor denied having any knowledge of the building work until the police paid him a visit. When asked if he was sorry for what had happened he replied "totalmente" (totally sorry).