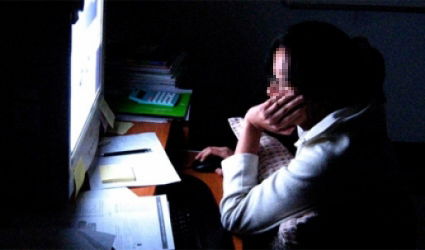 ONE Costa Blanca woman is putting together an advice guide to protect women looking for love and companionship from being targeted by scammers.
Ann Mather lost her husband to pancreatic cancer in April this year. Making friends with other widowed women, she was suggested a pen pal site. Within days she was contacted by a person named Mackenzie Dalton claiming to be a US citizen and a civil/structural engineer. 
Correspondence flowed quickly moving to private emails and Skype and within weeks they were speaking daily. He went to Ghana for work and a week before he was due to fly to Spain to visit Ann he said he had maxed out his credit card.
Ann transferred money to his account before he called to say it was all a scam: "He said he could not keep it going because he did not want to upset me more."
Ann Mather was shocked to find she had become a victim as she had done basic checks. When contacted initially by 'Mackenzie Dalton', on an online penfriend site she immediately went on to Google and did a search.
He was listed as working for the Institute of Structural Engineering in the USA, as she had been told. She even got his passport number and insisted the money he was requesting went into a bank and not through Western Union: "He completely understood my need to protect myself." However, it all came crashing down when she was told it was a scam: "By this time I was desperately in love with the man and had my future all mapped out. I was telling people how doubly blessed I was to have found not one but two men to love me in my life."
Since then, Ann has registered and been active on around 12 dating sites to catch scammers and look for the clues to warn people. She has a number of tips and advice for people to help avoid becoming a victim. These include:
Stick to people close to home. The majority of scammers say they are from the USA, Germany, South Africa and Australia.
Out of preference try and use sites that you have to pay a subscription for; this is a deterrent for scammers.
If someone contacts you and asks you to move away from the site to private emails or Skype very quickly, be cautious. Do not give out your email address.
They all seem to have a similar story, telling you they are widowed and lost their wife through illness and more than likely have one child aged around 13-14.
Put any image they send you through Google images, if there is any problem with it you will be directed to scam sites.
For more information email [email protected] and your enquiry will be directed to Ann who is happy to send her full list of advice and tips.