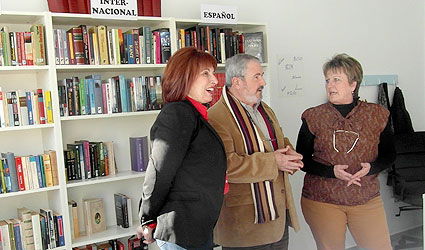 ORIHUELA COSTA'S Reading Point has been officially inaugurated.
Mayor Monserrate Guillen and Councillor for Education Rosa Martinez joined Councillor for the Coast and International Residents, Martina Scheurer, in opening the library located inside the Municipal Centre of Educational Activities in Calle Cipres, Lomas de Cabo Roig.
The library houses 10,000 books, in different languages, which have all been donated by individuals and are ready to be lent out free of charge.
The books were collected and sorted by volunteers who will also man the service. Saying she was "delighted" with the library, Scheurer said: "I appreciate the work of volunteers who have invested their time to make this possible and especially to people who have donated books."

She said the facility is also a meeting point and multi-use centre which will be used to host activities for children, English and Spanish classes and dance and music classes. 
The building was initially built to house a nursery but Scheurer said there was insufficient demand so it was important to put it to use: "To leave the centre closed was not suitable and we decided to use it as the centre of activities."
The library will be open Tuesday and Thursday from 2-7pm which the town hall hopes to be able to extend, but more volunteers are needed to help the community project grow.