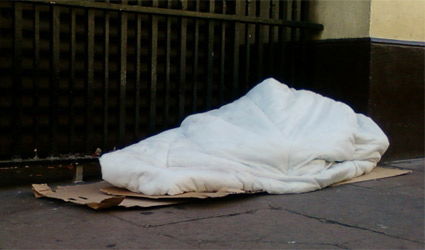 TEMPERATURES have dropped in the province, and while most people can take out an extra blanket there are those who really suffer with the arrival of the cold weather. While Almeria is warmer than other cities, between December and February alarm bells ring for the homeless seeking shelter and warmth.
Despite not having a plan in Almeria, the City Council reinforces its efforts at the Municipal Welcome Centre which often is overwhelmed.
Councillor of Social Affairs, Aranzazu Martin explained: "We are allowing as many people as possible to sleep in the centre, even  allowing them when there are no beds to sleep in a chair with blankets."
There are eight volunteers who work three nights a week from the Red Cross Mobile Units complementing this support by helping out those that sleep rough.
The Red Cross explained each night members go out and serve an average of 80 people, of which 66 are men and 14 are women, the most striking fact is that four of them are minors.
In terms of nationalities it is half and half between Spanish and foreigners.
From the Emergency Units the homeless are offered blankets to shelter from the cold , hygiene kits, food, sandwiches, muffins, coffee decaffeinated milk, chicken broth and water. If  they are also lacking in clothes they try to provide them with sleeping bags.