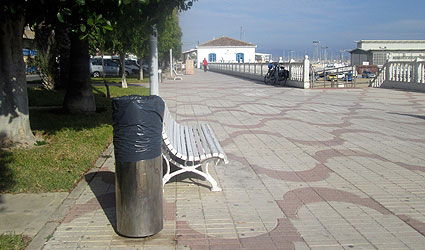 THE town hall of Garrucha will have to pay a total of €158,000 plus interest for 200 waste paper bins supplied at a cost of €900 each. This was the ruling by the Administrative Court No. 1 of Almeria after upholding the appeal filed by the company Metalworks Costas.
The case goes back to the era of the socialist government in the town with a purchase, authorised in 2006 by the then mayor Nicholas Piñero. The Town Hall records do not show any contract or any document to prove that the administrative process was conducted according to the law.
The present government team has so far refused to make any payment because of these reasons, also given the fact that there was no accounted budget and  the high cost of the bins which are stainless steel and engraved with 'Town Hall of Garrucha 2006', bins which may be acquired for €120 each elsewhere.
These deficiencies according to the court statement are reason to demand accountability where it belongs, but not to refuse to pay the contract price. The contract has been effectively fulfilled by the contractor, installing the 200 bins which are 'doing their job'.
The mayor of Garrucha, Juan Francisco Fernandez, has stated that the town hall will not appeal the ruling, but has criticised the "gross irresponsibility" committed by the previous government, which will have consequences on the budget balance of the municipal coffers. "It was not only irregular but an absurd purchase, because these bins can be purchased for €120, including IVA," he said.