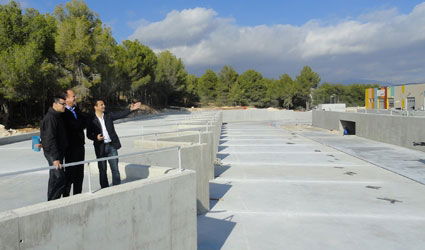 LA NUCIA'S Alberca Ecoparque will be recycling 30 different types of waste by 2014. The second phase at the Calle Guadalest installation on La Nucia's industrial estate has now been completed. The third and final stage of fencing and landscaping the 4,000-square metre centre is due to begin early next year.
It will also include an administrative area, a lecture room and an exhibition hall dedicated to environmental education and the promotion of recycling. 
The centre aims to make it easy for residents to recycle rubbish by providing appropriate containers for absolutely everything that they discard.  The town hall also hopes that the Ecoparque will discourage the present habit of disposing of rubbish by throwing it into gullies or on waste land.
The town will be cleaner as well as sustainable, said mayor Bernabe Cano.  "Recycling concerns us all and the Alberca eco-park supplies what was missing," he declared.  
The recycling ethos should begin with the young children who represent La Nucia's future, Cano said.  It was for this reason that the Diputacion-funded €690,000 project includes the lecture and exhibition rooms, he explained.