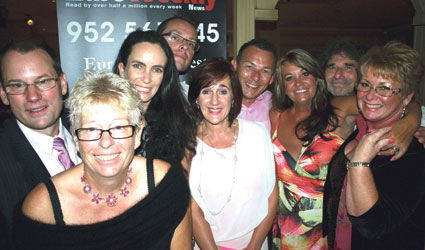 MIJAS based charities Positively Pink & Blue have closed another another successful year of offering FREE breast and prostate / testicular cancer screening to UK expatriate's living on the Costa del Sol.  
During 2013 more than 560 women have accessed the free breast screening programme with thankfully only a small number of ladies receiving a positive diagnosis.
Some of these ladies have already had their treatment and are doing well, but Positively Pink continues to support those ladies who are still receiving treatment.
This year saw the introduction of the Positively Blue programme to provide education, awareness and support for prostate and testicular cancer. In its first year Positively Blue had an overwhelming response to the 100 free appointments that were on offer, in-fact the charity funded a total of 136 appointments for prostate cancer screening and educated all attending about testicular cancer and the need to self examine. 
During the 2013 programme Positively Pink & Blue has spent in excess of €51,680 to ensure that all UK expatriates living on the Coast, regardless of age or circumstances, have access to free screening, education and support in their own language. 
Lorraine Palmer, the founder of Positively Pink & Blue, continues to believes that "early detection is your best protection." She sent her thanks to everyone who has supported the charity this year. She said: "That includes our small team of volunteers who work tirelessly (especially Pat & Lee Jay from YJT inland Radio who give so much) and those who have attended the programmes and made a donation, through to all the local businesses that have given so generously. They have ensured we have sufficient funds to continue this potentially lifesaving work in the years to come. 
"A special thank you to Dr David Deardon (Head of the Positively Pink Screening Programme) and Dr Kleimier (Head of the Positively Blue Programme) as well as the whole team at Clinica Medicare in La Cala, all of whom provide their time, the clinic space and their expertise free of charge to the charity." 
Lorraine added: "We are delighted to announce that in 2014 we will be offering both screening programmes again starting in February and our aim is to offer 1,000 breast screening appointments and 200 prostate and testicular cancer appointments. Further details on the 2014 programme as well as our calendar of fund raising events will be issued early in the New Year." 
For more information about Positively Pink or Blue visit: www.positively-pink.com / www.positively-blue.com or follow them on Facebook.