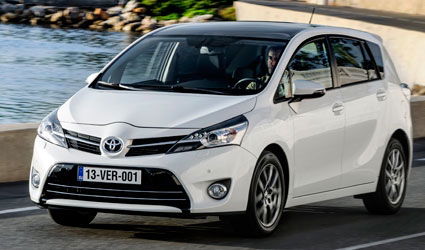 THE new Verso 1.6 D-4D will be the first Toyota to be equipped with a BMW Group-sourced engine. The car arrives two years after the Japanese manufacturer entered into a contract with the BMW Group to source diesel engines.
The arrival of the 112 DIN hp 1.6 D-4D widens the engine range available on the Verso model, which now comprises of four diesel and two petrol engines.
Toyota Motor Europe's (TME) Belgium-based Technical Centre led the development of the new Verso 1.6 D-4D, ensuring a match between the engine and the Toyota gearbox and vehicle electronics.
This has been achieved while safeguarding the comfort and dynamic performance of the original Verso, the manufacturer claims.
Several components were newly developed, ranging from engine mounts over a dual mass flywheel, a new gearbox housing and gearing, and a system to further improve efficiency and reduce emissions.
Didier Leroy, Senior Managing Officer of Toyota Motor Corporation, and President and CEO of TME, said: "Working together with an industry leader like the BMW Group allows us to benefit from economies of scale to reduce development costs as well as improve our time-to-market." 
A wider collaboration between the BMW Group and Toyota includes plans to co-develop a fuel-cell system, conduct a feasibility study for the joint development of a sports car platform, work together on creating lightweight vehicle body technologies or undertake joint research into lithium-air batteries.
Production of the Verso 1.6 D-4D will start in January 2014 at Toyota Motor Manufacturing in Adapazari (Turkey), the sole production facility of the Verso range, which also produces the latest generation Toyota Corolla.