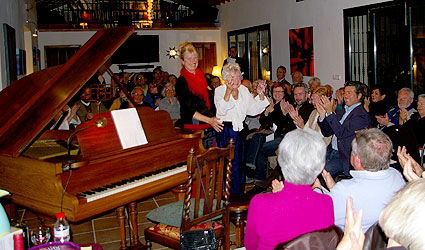 A TOTAL of €1,273 was raised for the benefit of palliative care charity Acompalia at an event to welcome Christmas.
The festive concert was hosted by Anne and Glynn Snelling at their home in Los Secanillos, where 94-year-old singer Agnes Cook-Bainbridge performed a programme of piano solos.
Local musician Cat Jary led her band Al Barroco in a selection of early music classics and carols in English and Spanish. 
The evening also featured an array of nationalities reflecting the diversity of residents in Granada province, with guests from Scotland, Sweden, Holland or the UK among other countries.
"With an event of this size, we owe a huge thank-you to the people who made it possible by giving their time and talent as well as financial support," said Lesley O'Brien, Acompalia's committee member in charge of fundraising.
Lesley welcomes further enquiries about Acompalia's fundraising. To get more information, get in contact with her at [email protected] or call her mobile 687 289 200.