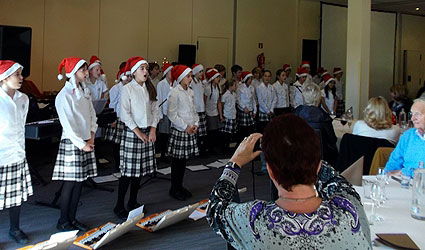 THE Calanova Cancer Care Charity held a lunch to welcome Christmas at the Lindner Hotel in Calvia. Anita Bagley brought her choir from the British International College (BIC) to put the guests in the spirit of Christmas.
Guests were served cava on the terrace looking over the grounds of the hotel before going into the dining room, where the choir was waiting to sing. They performed Christmas classics, as well as new songs.
In one of them, 'A Winter's Tale,' the choir was accompanied by Gee Carmichael. "An absolute delight," the organisers said. The concert was followed by a buffet of cold and hot food with an "impeccable" service the organisers were proud and grateful for.
Then, the golf bar was made over to those who stayed on for coffee and were entertained by Stevie Wray until the late afternoon. The Cala Nova Cancer Charity would like to express their gratitude to the Hotel Lindner, and especially to the choir of the British International College and Anita Bagley for their performance.