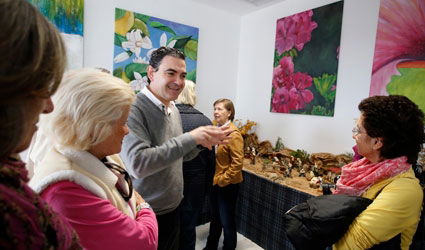 ALFAZ mayor Vicente Arques recently paid tribute to the town's 120 groups and associations. Visiting the Alfaz Social Centre on a pre-Christmas visit he thanked members of the different collectives for their hard work throughout the year.
The setting was appropriate, Arques said, as it was planned as a centre where everyone in Alfaz could connect without discrimination in lively, active and relevant surroundings.  The town's residents are worth all the local government's efforts, the mayor added.
Local Norwegian charities and the local socialist party presented donations to the mayor, who also inaugurated the traditional Belen – Crib scene – crafted by the Crearte Alfaz collective.