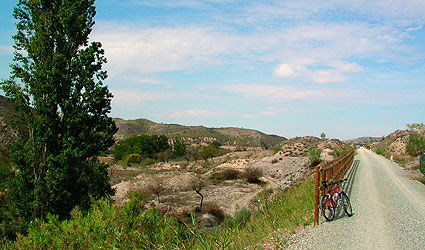 PLANS for a 'Green Route' along the old Guadix-Almendricos train tracks in Huercal-Overa have been given the go-ahead.
A contract to create the route for cycling and walking in the area where the train tracks, closed in September 1984, used to be, was signed by the Manager of Assets and Urban Development for the South of railway administrators, Adif, Fernando Gomez, and the mayor, Domingo Fernandez. 
Adif will now hire to the town an area of 292,597m2, which does not include existing buildings and parts of the old track which are on urban land. The land cannot be built upon and must be used only for the purpose of the route. 
The town hall will now invest in making the area into a route which can be used by nature lovers for hiking, cycling and riding.