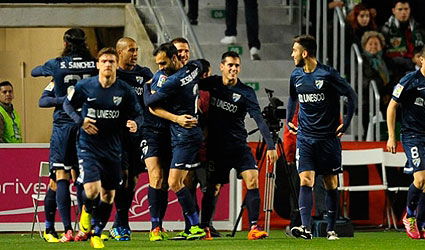 Málaga Club de Fútbol defeated Elche Club de Fútbol by 0-1 in tonight's 17th BBVA League game of the season, held at the Martínez Valero stadium. Camacho put the Blue and Whites in the lead with an early goal, finding the net following a Duda free kick.
The scoreboard remained the same at half time. Elche's Damián was sent off in minute 61, giving Málaga an even greater advantage, however there were no further goals. Málaga CF ends 2013 with an important 0-1 win and 20 League points.
Málaga Club de Fútbol was determined to come home with a positive result tonight, in the last match of 2013.  Bernd Schuster only made one change to tonight's starting-11, compared to last week's League match against Getafe CF. 
Eliseu was banned from the line-up due to an accumulation of yellow cards, which saw Duda in action this evening.  The Blue and Whites' captain didn't hesitate in making his mark.  A free kick set up an early chance for Camacho, who put his team 0-1 up with a header into goal, impossible for Toño to save.  Málaga Club de Fútbol's strategy was effective, and outwitted the rival defence in the first few minutes of play.
Elche took control of the match in the minutes following the Málaga goal, but came up against a well-positioned rival who maintained a solid defence.  An opportunity arose for the local side after 36 minutes, when Boakye passed to Coro who had a shot at goal, but failed to get past Willy. 
The Argentinean-born keeper received a warm welcome from the fans from his former club, and showed just how reliable a goalkeeper he is during the first half of the game.
 
Elche CF came on to the pitch in the second half with a renewed momentum and determination in their quest to equalise.  However Bernd Schuster's men didn't flinch and continued the fight for a second goal.  Samuel, who substituted Pedro Morales in this half, came close to a goal following a powerful pass from Duda, but didn't find the target.
 
Luck was on Málaga's side as Elche's Damián Suárez was sent off 15 minutes into the second half, leaving them with 10 men for the remainder of play.  Málaga Club de Fútbol increased possession and control of the ball, with Duda just missing out on a second Blue and Whites' goal thanks to a quick reaction from Toño.  Samuel also had an opportunity to score, again following a Duda assist, but sent the ball over the crossbar.  Duda was involved in every goal chance for the Blue and Whites tonight.
 
The scoreboard didn't change for the rest of the game, and Málaga CF achieved their first away win of the season by 0-1, ending 2013 with 20 points, with two first round League matches in hand.  The Blue and Whites are back in action at La Rosaleda on 4th January against Atlético de Madrid, kicking off at 4 p.m.
Match stats:
Team line-ups:
Elche CF: Toño; Damián Suárez, Botía, Pelegrín, Edu Albácar (C); Carles Gil, Rubén Pérez (Aarón Ñíguez, 80′), Carlos Sánchez, Fidel (Mantecón, 65′); Coro and Boakye (Cristian Herrera, 75′).
Málaga CF: Willy; Jesús Gámez, Sergio Sánchez, Weligton, Antunes; Portillo (Angeleri, 78′), Camacho, Tissone, Duda (C) (Santa Cruz, 93′); Pedro Morales (Samuel, 56′) and Juanmi.
Goals
0-1 (6′): Camacho.
Referee
Del Cerro Grande ('Colegio Madrileño').  Yellow cards were awarded to Málaga's Camacho (26′), Jesús Gámez (30′) and Duda (84′) and Elche's Albácar (84′) and Coro (92′).  Damián Suárez was sent off with a double yellow (27′) and (60′).
Information
17th BBVA League game of the season, held at the Martínez Valero stadium in front of 19,124 fans.
© www.malagacf.com