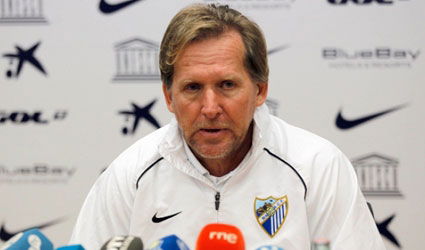 The Málaga CF coach held the last press conference of 2013 in Málaga to analyse match against Elche: "We could end the year on a positive note, but we'll need to play a very 'complete' match in order to come home victorious.
We've got every chance of ending 2013 with 20 points, which is a very respectable number, even though we've lost some important points along the way," affirms the Blue and Whites' coach.
The 'Malaguista' manager highlights the team's recent run of good results, gaining points in the last four games without defeat: "Out of the last four matches, we should have won two, but we performed well. 
The team has improved a great deal and will continue to get better little by little.  I've really noticed improvements in training each day, the boys are feeling good and are full of motivation."
Bernd Schuster also talks about Eliseu's ban from game: "When we're missing a player like Eliseu, who should be in the starting-11, we need to find a solution, so Duda will be in the line-up.
We're trying not to make too many changes, only what we need to."  The German-born coach refers to Juanmi being a part of initial line-up: "Roque is part of our strategy, although he's not yet 100 per cent, he's still got a bit to go to full recovery. 
He can help us tactically, particularly over short distances on the pitch.  We'll stick with Juanmi who is physically fit."