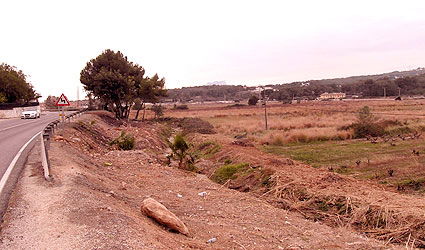 WORK has concluded on clearing the Les Sorts stream in Moraira. Cleaning up the streambed was a town hall priority to prevent the watercourse from overflowing during heavy rain, explained Environment councillor Jaime Perez.
The operation had to be approved by the Confederacion Hidrografica del Jucar (CHJ) water board since this affected a zone classed as public property.
The town hall financed the €27,459 project which involved clearing scrub and cutting down reeds, a heavy job requiring an excavator, chainsaw and plant shredder.
The council also pruned pines and carob trees along the banks of the stream and applied herbicide to prevent regrowth of the rushes.
Work on the stream will continue throughout the coming year, Perez announced, principally to prevent the reeds from repopulating the entire length of the Les Sorts. This would not be an expensive undertaking and was unlikely to require a budget of more than €1,500, the councillor said.  
Les Sorts is a protected area, added mayor Antoni Joan Bertomeu and the recent operation was positive both for residents and the tourists who use the Teulada-Moraira road.