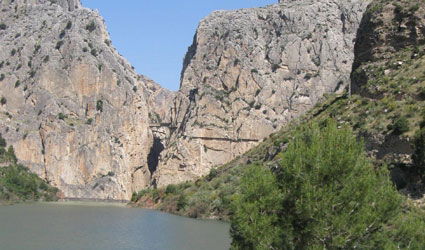 RESTORATION work on the notorious 'Caminito del Rey', known as the 'death walkway', is due to be completed by 2015.
The President of the Provincial Government, Elias Bendodo, has said that it will open for use within two years, when people will be able to walk across it as King Alfonso XIII did in 1921 when he inaugurated it. He said it should cease to be a dangerous and banned place to become somewhere that everyone can enjoy.
The Caminito del Rey passes across the Gaitanes Gorge between Alora, Ardales and Antequera. It is 100 metres above the river and will be four kilometres long and one metre wide. The new walkway will cost €3.12 million and will be made of wooden panels on metal supports drilled into the rock. There will be parts with glass panels so visitors can see the gorge below. 
The Caminito del Rey has become known throughout the world for its extreme danger, and although it has been closed to the public for years, many climbers continue to risk their lives to traverse it.