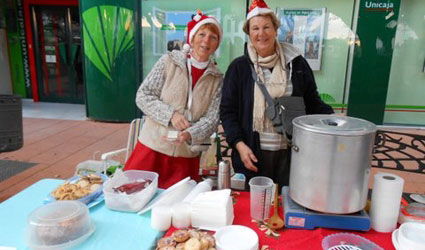 DAMES IN TURRE held their Annual Christmas Fayre in Turre Square. The sun was shining and the whole place was buzzing with stalls and Santa's Grotto. 
Thanks for their generous donations for the main raffle and help on the day go to Greg's Restaurant, Chilli, Gillie's Bar, Etticut, Enya, Styles, Home Sweet Home, Nico's Bar, Connections, Juan the Butchers Mojacar, Alison's Gym, Francesco's Hair and Beauty, PC Player Mojacar, Chiropody Doreen Woolton, Turre Fundraiser for the Grotto and Music, and the general public who supported the event. 
The total raised was €2,952.65 which will be distributed between local charities in the New Year.